Veteran wide receiver Ted Ginn has announced his retirement from football. Ginn, the No. 9 overall pick in 2007, enjoyed 14 seasons in the NFL with six different teams.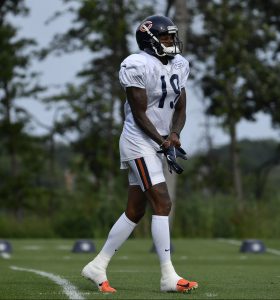 "It was a hard decision, but it was one that had to be made," Ginn said at a Friday press conference (via News5 Cleveland). "I've been gone 20 years, not being able to have some of the joys that you're supposed to have as a man —being able to enjoy your parents, being able to enjoy your kids, your wife and just yourself," Ginn said.
Ginn's blazing speed made him one of the most intriguing prospects in the '07 class. He didn't quite live up to all the hype, but he outlasted many of his first-round peers. Over time, Ginn found his footing as a return man, racking up seven touchdowns on special teams plus countless highlights.
Last year Ginn spent some time with the Bears but see much action in his six games. His last full season came in 2019 with the Saints, when he caught 30 passes for 421 yards and two touchdowns. After that, New Orleans signed Emmanuel Sanders, and Ginn was pushed out.
All in all, Ginn leaves football with 33 receiving touchdowns for the Dolphins, 49ers, Panthers (2x), Cardinals, Saints, and Bears. We here at PFR wish Ginn the best in retirement.
Photo courtesy of USA Today Sports Images.