Sean Payton revealed March 19 he tested positive for COVID-19. The longtime Saints coach received good news nearly two weeks later. Doctors have cleared Payton of the coronavirus, he announced Wednesday.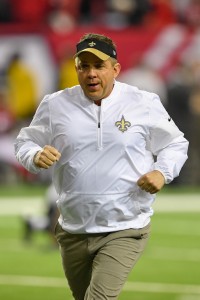 The 56-year-old coach said he was cleared six days ago. Payton represented the NFL's first scare related to this virus, which has paused the sports world and altered the way of life in hundreds of countries. Payton was tested March 16 and said (via Jarrett Bell of USA Today) his symptoms reached their worst point around two weeks ago.
"You fatigue real easy," Payton said of this period. "I'd be up moving around, doing something, then you'd want to lay down again. That lasted three or four days. By the time I got the test results back I had begun feeling better. I had my appetite back."
When Payton was diagnosed, the U.S. had confirmed less than 12,000 coronavirus cases. As of Wednesday afternoon, that number has climbed past 211,000. It is unlikely Payton's positive test will be the only one to affect the NFL, but this obviously represents good news.
The 15th-year New Orleans coach took time away from football responsibilities but returned to work (remotely) Monday. The Saints are building their draft board and will hold their war room at a New Orleans bar, Larry Holder of The Athletic tweets.
Despite the dire revised COVID-19 predictions released by the White House on Tuesday, the NFL still plans to go ahead with the draft as planned — though, the event will unfold in a far different fashion — and as of now is planning to begin the regular season on time with fans in stadiums. OTAs and minicamp remain on hold but are unlikely to commence this year.
Photo courtesy of USA Today Sports Images.