A month into free agency, Jarvis Landry remains without a team. That could change soon. The Saints are bringing in the Pro Bowl wideout for a visit Wednesday, Jeremy Fowler of ESPN.com tweets.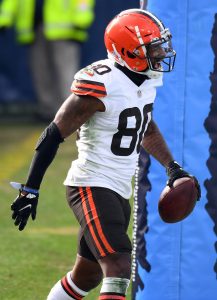 The Saints were connected to Landry early in free agency, but the five-time Pro Bowler soon visited the Falcons and has been continually mentioned as a candidate to return to the Browns. A Cleveland return remains in play, per Fowler. But Landry will huddle up with the Saints first. An LSU alum, Landry is a New Orleans-area native.
Having cut Emmanuel Sanders and having seen Michael Thomas' injury timetable pushed back to the point he missed the entire season, New Orleans featured perhaps the NFL's worst receiving corps last season. Thomas is back in play for the Saints, who will feature a new play-caller for the first time in 16 years. Pete Carmichael's offense could certainly use additional help at receiver, given Thomas' issues staying healthy over the past two seasons.
New Orleans acquired a second first-round pick from Philadelphia, parting with its 2023 first-rounder to do so. A wide receiver addition would make sense for the Saints there. A Landry move before the draft, however, may change the organization's plans. The Saints still have Marquez Callaway rostered, and they re-signed Tre'Quan Smith this offseason.
Landry, 29, spoke with Deshaun Watson about teaming up in Atlanta — before the Browns' landscape-changing guarantee gave the Browns the win in those unusual sweepstakes — and the quarterback's presence in Cleveland figures to matter. The Saints appear set to test the Browns' interest level. Cleveland has a new No. 1 receiver in Amari Cooper, having cut Landry shortly after that acquisition was reported. Landry is coming off his worst season as a pro — a 570-yard, two-touchdown campaign — though Baker Mayfield's injuries limited the Browns' passing attack. In Mayfield's more successful 2020 season, Landry caught 72 passes for 840 yards. He has three 1,000-yard seasons on his resume.