This is breaking news. Please refresh for updates.
Quarterback Taysom Hill has agreed to a "unique four-year, hybrid…contract extension" with the Saints (Twitter link via Adam Schefter of ESPN.com). The deal could pay anywhere between $40MM and $95MM, depending on the position he plays over that span. But, regardless of how he's used, the deal will furnish him with $22.5MM in guaranteed cash.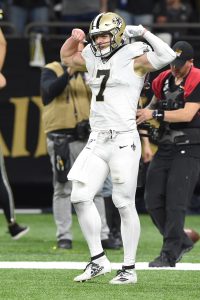 Hill will earn $40MM in base salary if he continues in his gadget role. But, if he becomes the Saints' starting quarterback for the next four years, he could net an additional $55MM, according to Schefter.
The deal is yet another stroke of cap wizardry from Saints GM Mickey Loomis, who already agreed to an entirely voidable four-year, $140MM re-up with Hill in March. We're still awaiting word on how this latest deal impacts the previous one, but the new deal likely supersedes/replaces the last one. In short, Hill did not receive a true $140MM re-up this spring. Instead, his actual contract for this year includes a $9.7MM signing bonus, a $1.4MM guaranteed roster bonus, and $1.03MM in guaranteed base salary, plus incentives. All together, that's a shade over $12MM for 2021.
Jason Fitzgerald of Over The Cap (Twitter link) suggests that the unique structure could be the result of lucrative incentives. For example, the deal could furnish Hill with a $500K bonus for every game he plays with upwards of 50% snaps at QB, plus another $500K bonus for every win. Still, the exact breakdown remains unclear.
Hill completed 72.7% of his passes last year for 928 yards, four touchdowns, and two interceptions. He went 3-1 while starting in Drew Brees' stead, showing a glimpse of his potential. Outside of the traditional QB stats, he finished 2020 with 555 yards from scrimmage and nine rushing and receiving touchdowns.
Through seven games this year, Hill has 20 carries for 104 yards and three rushing touchdowns, plus four grabs for 52 yards. As a QB, he's completed 7-of-8 throws for 56 yards and one interception.
Photo courtesy of USA Today Sports Images.