As rookies begin reporting to training camp, teams are ending unusually lengthy negotiations with second-round picks. After the Jets came to terms with Breece Hall on Tuesday morning, the Saints signed their second-round pick — cornerback Alontae Taylor — to wrap their draft class, per NewOrleans.football's Nick Underhill (on Twitter).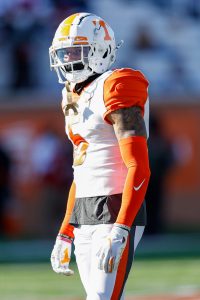 One of 10 unsigned second-rounders, Taylor finishes out New Orleans' five-man 2022 draft class. The holdup likely stemmed from how much of Taylor's third-year salary would be guaranteed. That issue has led to a gridlock atop the second round, and a few mid-second-round draftees have taken months to sign as well.
The Saints chose Taylor 49th out of Tennessee. This marks the second straight year the Saints have used a second-day pick on a corner, with the team choosing Stanford's Paulson Adebo in the 2021 third round. Taylor and Adebo together gives the Saints a rather crowded corner cadre. New Orleans still rosters Bradley Roby alongside Marshon Lattimore, and C.J. Gardner-Johnson is back to patrol the slot. Gardner-Johnson is going into a contract year. The team also has corner/safety P.J. Williams rostered; this will be Williams' eighth NFL season.
Taylor represents the Saints' top draft investment at the position since Lattimore came off the 2017 draft board in Round 1. ESPN ranked Taylor as this year's 109th-best prospect, but the Saints clearly see more in the 6-foot defender.
At Tennessee, Taylor started a chunk of games in each of his four seasons. He intercepted two passes, returning one for a touchdown, last season and broke up six more. Taylor's rookie deal runs through 2025. Here is how the Saints' draft class rounds up:
Round 1: No. 11 (from Commanders) Chris Olave, WR (Ohio State) (signed)
Round 1: No. 19 (from Eagles) Trevor Penning, OT (Northern Iowa) (signed)
Round 2: No. 49 Alontae Taylor, CB (Tennessee)
Round 5: No. 161 D'Marco Jackson, LB (Appalachian State) (signed)
Round 6: No. 194 (from Colts through Eagles) Jordan Jackson, DT (Air Force) (signed)
Round 6: No. — Selection forfeited