The Saints have continually prioritized their offensive line, which currently consists of four former first-round picks and ex-second-rounder Erik McCoy. They made a major tackle decision this offseason, however, and may be prepared to part ways with a longtime contributor in 2022.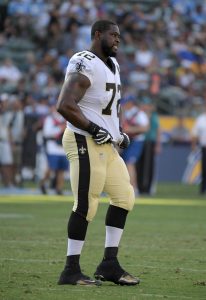 New Orleans is planning to let longtime left tackle Terron Armstead play out his contract and hit free agency, Jeremy Fowler of ESPN.com notes. The Saints extended Armstead back in May of 2016; that five-year deal expires after this season.
Due to a contract restructure that introduced a void year into the equation, Fowler adds Armstead cannot be franchise-tagged. This would put the Saints to a higher-stakes decision, one that resembles the 49ers' situation with Trent Williams this year. San Francisco paid up to keep Williams, signing the perennial Pro Bowler to an offensive line-record contract. At 30, Armstead is three years younger than Williams and will certainly aim high if he hits free agency for the first time.
This scenario playing out would not keep the Saints from re-signing Armstead. But they gave right tackle Ryan Ramczyk a top-market deal this summer; that $19.2MM-per-year pact came in much higher than Armstead's 2016 extension ($13MM AAV). Ramczyk's contract also contains an interesting provision. If Ramczyk earns first- or second-team All-Pro acclaim at left tackle, he earns a $1MM bonus and will see his annual salaries bumped up by $1MM.
The Saints could avoid that path by re-signing Armstead, but given Williams' example, it will be difficult to keep the three-time Pro Bowl left tackle off the market. Fellow 2013 left tackle draftee David Bakhtiari raised the salary ceiling beyond $23MM per year on his 2021 extension, leading to Williams topping it. With the salary cap set to spike toward $210MM in 2022, Armstead will stand in a good position — barring a major injury setback this season — come March. Letting Armstead walk would also help the Saints plan a deal for McCoy, who will enter a contract year in 2022.
Armstead hitting free agency would make him one of the top players available. By trimming $100MM-plus in cap space and finding room for a Marcus Williams franchise tag, the Saints showed this year they will create space for players they deem essential. After extending Ramczyk and Marshon Lattimore, will they end up letting both Armstead and Williams walk?
Photo courtesy of USA Today Sports Images.