Drew Brees isn't going anywhere. On Tuesday, the Saints star took to social media to announce that he will continue playing in 2020.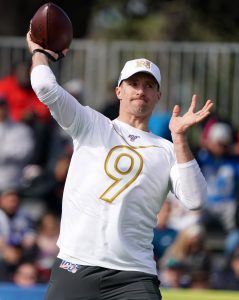 "I look forward to the grind and the journey, for the reward at the end will be worth it," Brees wrote on Instagram. "Love you #WhoDatNation. Let's make another run at it!"
Most expected Brees to stave off retirement for at least one more year, though he's been mulling over his future since the end of the season. And, although he'll technically reach free agency next month, he's left little doubt about his intentions – he's gone on the record to say that he'll either play for the Saints, or retire. Now that Option #2 is no longer on the table, he'll re-sign with New Orleans in short order.
Brees, who turned 41 in January, completed 74.3% of his passes in 2019, marking his third straight year as the NFL's leader in that category. His thumb injury cost him five games, but he still managed 2,979 yards with 27 touchdowns against just four interceptions in eleven contests. And, the postseason did not go as planned, but he capped off the regular season in unbelievable fashion – he connected on 29 of 30 throws against the Colts as he set the league's new all-time record for career touchdown passes.
Given everything he's accomplished, it stands to reason that this will be his final season in New Orleans. He'll also be tasked with passing the baton in 2020 – likely to Taysom Hill, a restricted free agent who is expected to be retained. Brees has said that he is comfortable with acting as Hill's mentor in a bridge year, so it should be a seamless transition for one of the league's most high-powered offenses.
We already knew that Brees would not be exploring the open market, but his return will have plenty of ramifications in the free agent quarterback carousel. The biggie, of course, is that backup Teddy Bridgewater is most likely out of the picture. Without the luxury of keeping the former first-round pick as a second- or third-stringer, he'll be allowed to walk, where plenty of teams will pursue him as a starter or a bridge QB.
Photo courtesy of USA Today Sports Images.