The Saints are cutting a long-time member of the team. New Orleans has released punter Thomas Morstead, Nick Underhill of NewOrleans.Football confirmed (Twitter link). The news was first reported by Nader Mirfiq (on Twitter).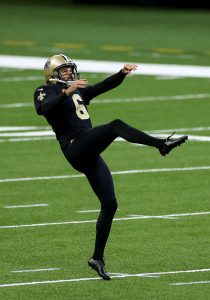 The move frees up about $2.5MM in cap space. The team unusually kept UDFA rookie Blake Gillikin on the active roster at the beginning of last year before placing him on injured reserve, perhaps signaling they viewed him as the punter of the future. Morstead was more than just the team's punter, he was also a leader in the locker room and fan favorite due to his long tenure and consistent performance.
Drafted by the Saints in the fifth-round all the way back in 2009, he's been with them for the past 12 seasons. He's never missed a game during that span, and he won Super Bowl XLIV with the team. Still only 34, he should have plenty left in the tank physically and should be able to find a new home.
The highest-paid punter in the game for a while, Morstead made the Pro Bowl in 2012 and was also a second-team All-Pro that year. On a zoom call with the media shortly after the news broke, Morstead confirmed he plans to play elsewhere and said last year's drop in production was due to lingering injuries, Underhill tweets.
He also thanked the fans and Saints, saying "I'm overwhelmed with gratitude and thanks. … My whole experience with the organization has been outstanding," via another tweet from Underhill.
Photo courtesy of USA Today Sports Images.