As teams gear up for an offseason of roster maneuvering, teams are beginning to the arduous process of lining up their salary caps to retain key players on expiring contracts, sign free agents, and their draft picks. Teams are forced to make especially difficult salary-cap decisions when they have a chance at an elite player through free agency.
While many of the top players currently set for free agency will surely sign an extension with their current team or receive either the franchise or transition tag, it is always a fun exercise to examine who is currently the best player set to be available through unrestricted free agency.
It's no secret that this year's offseason will be dominated by quarterback storylines. Philip Rivers, Jameis Winston, and Teddy Bridgewater are all set to be unrestricted free agents and had success as starters last season. Yet, none of them have the pedigree of future Hall of Famers Drew Brees and Tom Brady, the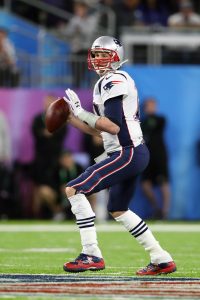 combination of youth and sustained success like Dak Prescott, or match the recent performance of Ryan Tannehill.
Brady has obviously asserted himself as one of the greatest quarterbacks of all time over his Patriots career, but he will be 43 before the start of next season and looked abnormally average at the close of this season. New England finished the season with back-to-back losses to finish out the regular season (against the 5-11 Dolphins) and in the first round of the playoffs (at home against the Titans).
Brady played a role in both losses, completing just 36 of his 66 attempts (good for a 54.5% completion percentage) for 430 yards, two touchdowns, and two interceptions. At the same time, Brady amassed over 4,000 passing yards for the third consecutive season and produced his best touchdown-to-interception ratio (24 to 8) since 2017.
Brees is in a similar boat. He'll be 41 next season, but just led the league in completion percentage for the third consecutive season and posted the best touchdown-to-interception ratio of his career. With that said, the Saints did not look much different in the 5 games Brees missed early in the season with backup Teddy Bridgewater in his place.
Prescott has been surrounded by the hoopla of quarterbacking America's Team, but the Cowboys signal-caller has taken consistent strides under the bright lights. At just 26 last season, Prescott fell just 98 yards shy of reaching the 5000-yard mark. He set a career-high with 30 touchdown throws and even while throwing a career-high 596 attempts, was sacked a career-low 23 times.
Of course, unlike Brees and Brady, Prescott has yet to reach the historic status they both already have. In fact, Prescott has yet to play in a conference championship game. Furthermore, his career year this season came while Dallas struggled to an 8-8 record in a wide-open NFC East. Does he deserve credit for performing despite a difficult surrounding, or was he responsible for the team's struggles?
Finally, one of the most interesting stories of the season surrounded the quarterback position in Tennessee. Many around the league scoffed when the Titans benched Marcus Mariota for Ryan Tannehill. It seemed like they were just replacing one disappointing quarterback with another. However, the once highly regarded prospect led the Titans to a 7-3 surge to close the regular season, upset the Patriots in the first round of the playoffs, and almost upset the eventual Super Bowl champion Chiefs.
Tannehill threw for 2742 yards in just 10 regular season starts, throwing 22 touchdowns and just 6 interceptions. He led the league in yards per attempt (9.6) and quarterback rating (117.5) while helping young wideout A.J. Brown emerge as one of the best receivers in football. However, it's fair to wonder how much of Tannehill's success was a side-effect of a fantastic run game (led by Derrick Henry) and his receivers (like Brown). With the shortest resume of the group, Tannehill surely represents the largest risk but may have one of the highest rewards.
With all that said, what do you think? Who is the best unrestricted free agent quarterback this offseason? Submit your answer in the poll below and voice in your opinion in the comments.