Drew Brees recently confirmed that he would return to the field in 2020, and he had previously made it clear that he would only play for the Saints. So at this point, the drama that would ordinarily be surrounding a free agent QB of Brees' caliber simply doesn't exist.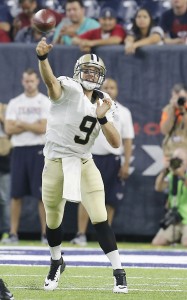 However, GM Mickey Loomis said there have been no contract talks with Brees' camp at this point, as Katherine Terrell of The Athletic tweets. Loomis, though, understandably hopes that the two sides will have a deal in place by the time free agency opens on March 18. New Orleans does not very much cap space at the moment, and Brees will eat into the room that it does have.
Of course, Brees is only one piece of the club's QB puzzle. Restricted free agent Taysom Hill, though he will turn 30 in August and has thrown all of 13 career passes, is rumored to be a hot commodity, to the point that the Saints may feel compelled to put a first-rounder tender (worth roughly $4.6MM) on him. New Orleans has made it clear that it plans to transition to Hill whenever Brees' career is over.
To that end, the Saints may wish to get Hill more experience as a true QB in 2020, and they surely hope Brees gives them a little bit of a break in terms of salary. Spotrac estimates his market value at $36.5MM, and while he will probably not sign for that much, New Orleans will not have the flexibility to do much past re-signing him and retaining Hill.
Which means that Loomis will do much of his offseason work tinkering at the margins and focusing on the draft. To help Brees — and eventually Hill — the Saints are reportedly eyeing receiver prospects. This year's draft is especially deep at WR, and Pro Football Network's sources say as many as 25 receivers could be drafted by the end of the third round. New Orleans doesn't have a second-round choice, but PFN hears that the club could use its first- and third-round selections on pass catchers to serve as needed depth behind stud Michael Thomas.
Photo courtesy of USA Today Sports Images.