The Saints' reassembled receiving corps represents one of this position's top storylines — amid an offseason loaded with wideout intrigue — going into training camp. Chris Olave and Jarvis Landry are set to complement Michael Thomas for what stands to be one of the NFL's most improved position groups.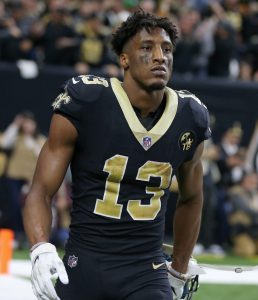 But the Saints continue to wait on their All-Pro target. Although it has been since November when Thomas shut down his rehab effort to return for the 2021 season, the ankle issue he is rehabbing is likely to keep him out of the team's minicamp next week, Dennis Allen said (via NOLA.com's Amie Just, on Twitter). Thomas has not played since the 2020 divisional round, and even that wrapped an injury-plagued season, raising the anticipation for the seventh-year standout's re-emergence.
While it can be interpreted as concerning Thomas is not yet ready to participate in a 2022 minicamp, given how long it has been since he was last at full strength, Allen said he wants the two-time All-Pro at 100% before he returns, via The Athletic's Katherine Terrell (on Twitter). Thomas, 29, has progressed to running sprints, Nick Underhill of NewOrleans.football relays (via Twitter), and the Saints have expected him back at training camp for a bit now. Still, the lengthy stretch since New Orleans' top target was at 100% places his career at a crossroads.
After missing just two games from 2016-19, Thomas suffered a high ankle sprain in the Saints' 2020 opener. He then encountered a midseason hamstring injury, but the ankle trouble lingered into 2021. Thomas held off on undergoing ankle surgery until summer 2021 — months after the Saints wanted that operation to take place — and ran into a new ankle injury during the '21 season. He has missed 26 games over the past two seasons. The Saints still managed to finish 9-8 last season, but they obviously missed Thomas, who finished his last healthy season as the NFL's Offensive Player of the Year.
Restructures have knocked Thomas' 2022 base salary down to barely $1MM, but his cap number jumps from $13MM in 2022 to $28.3MM in 2023. Another injury-limited season would lead to conversations about a 2023 release, which would need to be a post-June 1 designation. For now, the Saints are preparing for a regular-season opener featuring a recovered Jameis Winston targeting a recovered Thomas and his new-look supporting cast. Thomas' extended hiatus and Winston not being ready just yet provide additional barriers to this reality, creating a high-variance outlook for this season's New Orleans offense.