Continuing to make progress in their pursuit of cap compliance, the Saints have identified two higher-profile moves they would like to make. The team wants to extend Marshon Lattimore and/or Ryan Ramczyk, Ian Rapoport of NFL.com notes (video link).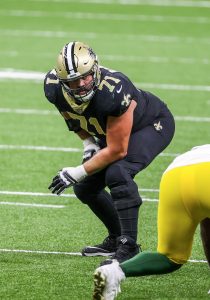 After trimming more than $20MM in cap space over the past week, the Saints are still nearly $50MM over the $180MM mark that doubles as the floor for the 2021 cap. Extensions for their 2017 first-round picks would help on this front, as they would reduce the 2017 draftees' cap numbers. Each is set to play next season on a fifth-year option salary.
But it will be interesting to see if the Saints can hammer out a top-market extension amid this time crunch. Two extensions in this span would be highly unlikely. Both players are extension targets, but the franchise might be targeting just one in the coming days and potentially completing the other's deal later. The Saints are not believed to be close with either Lattimore or Ramczyk, Rapoport adds.
The Saints completed top-market extensions for Michael Thomas and Alvin Kamara late in the past two summers. Lattimore and Ramczyk qualify as players who will also push to secure their respective position's top salary. Ramczyk is set to earn just more than $11MM this season; Lattimore is attached to a $10.2MM fifth-year option salary. The Saints have until March 17 to move under the cap.
Extensions for Tre'Davious White, Marlon Humphrey and Jalen Ramsey transformed a stagnant cornerback market last year; each earns at least $17MM annually. White and Ramsey pushed the corner ceiling north of $19MM per year. Ramczyk's talks may be more complicated. Deals for Laremy Tunsil and David Bakhtiari — each now attached to deals worth at least $22MM annually — have left tackles holding a big lead on right tackles financially. Lane Johnson ($18MM AAV) and Trent Brown ($16.5MM) are the only right tackles making more than $14MM per year, and the Raiders are shopping Brown. New Orleans' right tackle starter since his 2017 rookie season, Ramczyk has been one of the NFL's best tackles since his rookie year.
Photo courtesy of USA Today Sports Images.