The Taysom Hill momentum has continued to the point Sean Payton expects his gadget quarterback to receive an offer sheet, perhaps even if the Saints apply a first-round RFA tender to Hill.
Drew Brees has not confirmed he will return yet, but signs point to the league's all-time passing kingpin coming back for his age-41 season. The Saints, assuming they can retain Hill, would have a chance to prepare for a potential Brees-to-Hill transition plan. If the Saints tender Hill as a first-rounder and do not match an offer sheet, they would receive that team's 2020 first-round pick.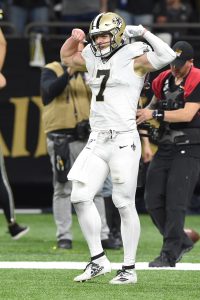 "Yeah, I think someone is going to make him an offer," Payton said during an appearance on The Peter King Podcast (via NBC Sports). "But the first thing the fan has to understand is … if we tender Taysom as a one, the team that makes the offer on him and signs him to an offer understands they're going to give up a first-round pick if we don't match. That's easier to do if you're pick 22, 23, 24, 25. We might very well see it if it's a team in the second half of the [first round]."
Even being tendered at the first-round level would represent a remarkable rise for Hill, a 29-year-old ex-UDFA with 13 career regular-season pass attempts. Hill, however, has proven immensely valuable for New Orleans. He's frequently taken snaps and either logged carries or given handoffs to Saints running backs in what's been a more complex New Orleans ground game. Hill also caught six touchdown passes this past season.
Despite only entering his fourth season, the BYU alum will turn 30 before Week 1. He believes he has franchise-quarterback talent and wants to play for a team that categorizes him as such.
"I definitely view myself as a franchise quarterback," Hill said, via the Associated Press' Rob Maadi (audio link). "I think as you look at the other questions — is it New Orleans? Is it somewhere else? — as you go into free agency, this is the time that you start to find out how people view you.
"… I think as you get to free agency there's no denying that I love my time in New Orleans. I love coach Payton; I love [OC] Pete Carmichael. Do I want to leave? The fact of the matter is, no, I don't. But as you look at free agency, you have to find the right opportunity for you. You have to find the situation to take care of your family. I want to play quarterback in this league, and if New Orleans doesn't view me that way, then I have to leave."
A first-round tender will likely bump Hill's salary north of $5MM next season. Payton has said it is unrealistic to bring back Brees, Hill and Teddy Bridgewater for next season. Given all that's come out of New Orleans early this offsason, Hill is probably the best bet to be Brees' backup in 2020 — if the 19-year veteran returns. Hill is due to be an unrestricted free agent in 2021.
Photo courtesy of USA Today Sports Images.