The Saints may have a long-term plan that includes a Drew Brees-to-Taysom Hill baton pass. This may leave Teddy Bridgewater out of the equation.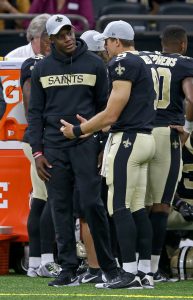 Bridgewater turned down a chance to become the Dolphins starter last year, instead re-signing with the Saints on a one-year deal worth $7.25MM. The former first-round pick again is free agency-bound, but Sean Payton does not appear to envision another year with the Brees-Bridgewater-Hill troika together. The 14-year Saints coach said it is "unrealistic" to bring all three back, per Mike Triplett of ESPN.com (on Twitter).
Although Bridgewater helped the Saints to a 5-0 mark as a starter while Brees recovered from injury, the 27-year-old passer may be closer to one of the free agency dominoes than set for another year as Brees' backup. The priority appears to be Hill, who is a restricted free agent.
If Brees comes back to start a possible multiyear transition to Hill, the Saints are expected to place a first-round RFA tender on the latter, Jeremy Fowler and Dan Graziano of ESPN note. The 2019 first-round tender price was $4.4MM.
It would represent a remarkable rise for the ex-UDFA to receive the rare first-round tender, and it may remain a slight stretch to envision Hill becoming a surefire quarterback option. The unique passing-rushing-receiving weapon has only thrown 13 career passes. The prospect of a 2021 Brees-to-Hill transition makes more sense because sources informed Fowler and Graziano that Hill may not be ready to handle being New Orleans' starter in 2020. This would shift the focus to Brees, whose retirement talk is believed to be genuine.
A BYU alum, Hill will turn 30 before Week 1 of next season. Brees recently turned 41. Brees has said he is not going anywhere else; the future first-ballot Hall of Famer will play for the Saints in 2020 or retire.
Photo courtesy of USA Today Sports Images.