Saints quarterback Drew Brees is giving serious thought to retirement, PFT's Mike Florio hears. The Saints, obviously, want the future Hall of Famer to return, but a source tells PFT that the club wants him back for what would essentially amount to a bridge year. In 2021, they envision Taysom Hill taking over as the team's starter.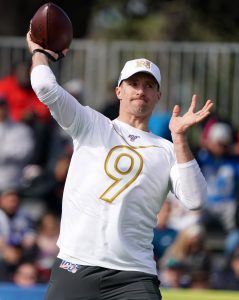 If Brees returns for a 15th season, he'd be the starter, but he'd also yield some spotlight and snaps to Hill. That plan may or may not suit Brees, who could walk away from the game with his fortune and still earn plenty more off the field, perhaps as a TV analyst.
Meanwhile, the Saints have some offseason work to do when it comes to Hill and Teddy Bridgewater. Hill will be a restricted free agent in March and another club could conceivably match their offer sheet, even at the first-round level. Bridgewater, who is beloved in New Orleans and all around the NFL, could be lured away by an opportunity to start with a contract befitting of a QB1.
As for Brees, he's indicated that he'll take a month to or so to weigh his options. If he does return, Brees says he'll only suit up for the Saints.
Brees, 41, completed a league-high 74.3% of his passes in 2019, marking his third straight year at the top of the category. In his injury-shortened eleven-game campaign, he tallied 2,979 yards with 27 touchdowns against just four interceptions. The wild card round against the Vikings didn't go as planned, but Brees did cap off the regular season in remarkable fashion by completing 29 of 30 passes against the Colts and setting the NFL's new record for touchdown throws.
Photo courtesy of USA Today Sports Images.