Saints quarterback Drew Brees says he isn't bothered by the prospect of ceding snaps to Taysom Hill (Twitter link via Chris Simms of PFT). Brees is still deciding whether he'll return for another season, but a larger role for Hill won't dissuade him from playing.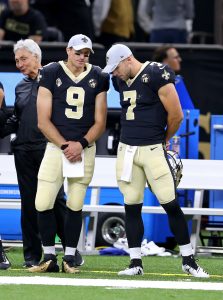 [RELATED: Saints Planning Transition To Taysom Hill In 2021]
"If I'm back, and Taysom's along side me, call the plays that puts us in the best position to win. If that means Taysom Hill is taking 30 snaps a game, 25 snaps a game, so be it. I'm all for that," Brees said.
The Saints would like to have Brees back for a bridge year, allowing them to make a smooth handoff to Hill for 2021 and beyond. Brees, 41, is on board with that plan, if he decides to play.
Brees, of course, has nothing left to prove in the NFL and has already earned more money than he could ever hope to spend. Over the next month or so, he'll weigh his options, which include a potential career in broadcasting.
Brees completed a league-high 74.3% of his passes in 2019, marking his third straight year at the top of the category. In his injury-shortened eleven-game campaign, he threw for 2,979 yards with 27 touchdowns against just four interceptions. In the regular season finale against the Colts, Brees connected on 29 of 30 passes and set the NFL's new record for touchdown throws.
Photo courtesy of USA Today Sports Images.