Demario Davis has been a consistent presence in the middle of the Saints' defense during his four seasons with the team. He is scheduled to remain in New Orleans for another two years, but the veteran linebacker is aware that his contract status may change soon.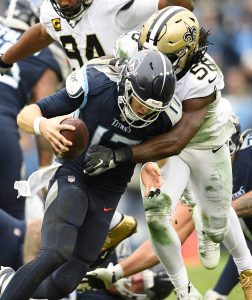 Davis, 33, began his career with the Jets in 2012. He was a full-time starter by his second year, and remained a significant contributor throughout his tenure. After a single season with the Browns, he was traded back to the Big Apple in 2017. He led the league in solo tackles that year, also setting a new career-high in sacks with five.
That production led to a three-year, $24MM contract with the Saints during the subsequent offseason. He remained as consistent as ever during that span, earning First-Team All-Pro honors in 2019. That led to a three-year extension worth $27MM. He received a Second-Team nod in 2020, after compiling 119 tackles and four sacks. After that season, the Arkansas State alum was one of several Saints veterans who re-worked their contracts to create immediate cap space for the team.
As a result, his 2022 base salary is just $1.1MM, coupled with a cap hit of just under $5.9MM. However, those figures are set to jump to $8.5MM and $13.2MM, respectively, next year. That leaves another extension as a possibility, though the team would see a small financial gain from his release after the 2022 campaign. Davis addressed his contract status at minicamp, his first on-field participation with the team this offseason.
"We'll see," he said, via Jeff Duncan of NOLA.com, while speaking about the potential of a new contract. "I have nothing but love for the city. And I have a lot of love for this organization. But at the end of the day, it's still a business. We'll see how it goes."
The Saints have a number of other options to succeed Davis as a starter in the near future, though none of them have established themselves as full-time starters in New Orleans. Depending on his level of play in 2022, then, another new contract could be beneficial for both parties.