Alvin Kamara and the Saints remain in negotiations on an extension that would keep him in New Orleans long-term. While a trade rumor surfaced Tuesday, this situation does not appear to be contentious.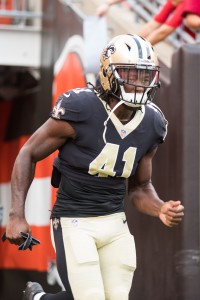 The three-time Pro Bowl back has not asked the Saints to pay him more than Christian McCaffrey, Tom Pelissero of NFL.com reports (video link). McCaffrey signed a four-year, $64MM deal earlier this year.
However, the Kamara-Saints talks may have run into some hurdles. The Saints and Kamara were believed to be making progress, but Pelissero adds the talks "went a little bit sideways" recently. The Saints have proposed Kamara a four-year, $50MM deal, Jeff Duncan of The Athletic reports (subscription required). Those were the numbers that convinced Derrick Henry to sign a Titans extension in July. Kamara is set to make $2.1MM in base salary this season.
The team would prefer to keep its three-down weapon long-term but has broached the subject of a trade. New Orleans is not shopping Kamara, but if the team were to get serious on a trade, a first-round pick is the price. The Saints received a first-rounder for Brandin Cooks three years ago and collected a first-rounder and Max Unger for Jimmy Graham in 2015. The Saints have also traded both high-profile players who previously played Kamara's role in Sean Payton's offense — Reggie Bush and Darren Sproles — though Kamara has outperformed both as a running back. New Orleans received little in compensation in the Bush or Sproles swaps.
Contract matters have not been entirely at the root of Kamara's practice absences. A back injury has sidelined him, per Pelissero, who adds Kamara intends to return to practice Wednesday. He received an epidural injection recently. Kamara missed time due to ankle and knee problems last season.
McCaffrey, Henry and Joe Mixon agreed to new deals this year, helping stabilize a running back market reeling from the disappointments the Todd Gurley, David Johnson and Le'Veon Bell deals brought. Any Kamara talks will surely involve a contract north of Mixon's $12MM-per-year deal. With Kamara averaging more yards per touch than McCaffrey over the course of his career, and making three Pro Bowls to McCaffrey's one, the Saints back has a case to land a contract near the Panthers star's territory. Such demands would put the Saints to a decision, but Kamara's importance to this season's Super Bowl-contending roster would seemingly increase his leverage in these talks.
Photo courtesy of USA Today Sports Images.