The NFL continues to monitor Alvin Kamara's legal situation. According to ESPN's Jeremy Fowler, the running back's February arrest remains "under league review" while the NFL continues to monitor "all legal developments." This includes Kamara's scheduled court date on August 1.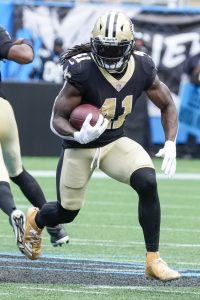 Kamara was charged with felony battery following an altercation in Las Vegas during Pro Bowl weekend. Video surveillance showed Kamara punching Darnell Greene eight times following an argument, with Greene being knocked unconscious and sustaining an orbital bone fracture. Greene has since sued Kamara for monetary damages.
The NFL's personal conduct policy calls for a six-game suspension for felony battery. As Fowler writes, there's no "firm timeline" regarding when a potential suspension would be handed out. League sources told Fowler that they believe Kamara will ultimately be suspended, but a lot depends on the legal findings. If the legal proceedings are dragged out, Kamara might be allowed to suit up for Week 1, although the NFL also has the ability to put the RB on paid leave via the commissioner's exempt list.
Regardless of how Kamara's legal issues unfold, the Saints are still hunting for RB depth. As Jeff Duncan of NOLA.com writes, the Saints would clearly like to add some reinforcement at the position. While Duncan categorizes the RB pursuit as a "want" and notes that there isn't any immediate urgency, the pursuit could easily evolve into a "need" if Kamara is ultimately slapped with a ban. If the Pro Bowler is forced to miss time, the Saints would turn to veteran Mark Ingram, but the team otherwise has inexperienced depth in Tony Jones, Dwayne Washington, Devine Ozigbo, and UDFA Abram Smith.
As Duncan notes, we've already seen the Saints be aggressive when it comes to adding at the position. The team put in a bid for Sony Michel before he landed with the Dolphins, and they've also hosted veteran David Johnson and USFL standout Darius Victor on visits. The team even outbid the rest of the NFL in order to add Smith, who was "one of the Class of 2022's prize undrafted free agents."