Business is starting to pick up for Jadeveon Clowney, but he won't necessarily rush to sign his next NFL deal. The defensive end's camp has advised him to wait for Saturday's roster deadline to pass before signing, Dianna Marie Russini of ESPN.com tweets.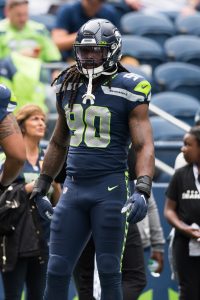 [RELATED: Saints, Titans Pushing To Sign Jadeveon Clowney]
By waiting, Clowney could tap into a larger pool of available dollars. He may also see one or two new unexpected suitors, if a projected starter gets dropped between now and Saturday afternoon. Of course, it's a double-edged sword – the waiting game could actually hurt him if another valuable veteran joins him on the open market.
The Saints and Titans have offers out to Clowney, setting the stage for a high-priced bidding war. Both teams want the former No. 1 overall pick to sign by Monday, but he'll ultimately dictate the timetable. Clowney, 27, will need to go through the necessary COVID-19 protocols before joining his future teammates.
The Ravens may also get involved, though the finances are a bit tricky. In terms of cap space, the Titans are in the best position of any known suitor with $22MM+ available. The Saints, meanwhile, will have to work some magic – they've got less than $7MM in spendable dollars.
Photo courtesy of USA Today Sports Images.