Just a few days before the start of the 2020 regular season, Jadeveon Clowney finally has a new home. According to Ian Rapoport of NFL.com, Clowney is signing a one-year deal with the Titans that is worth at least $12MM and that will max out at $15MM (Twitter link).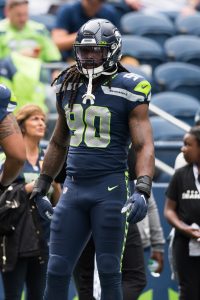 Though Clowney's name has been a prominent part of the NFL news cycle all offseason, his market really started to pick up within the past week or so. It was reported at the end of last month that the Ravens had emerged as the frontrunners for his services, and then we learned that the Titans and Saints were pushing to sign him. The Seahawks and Browns were among the other clubs that expressed legitimate interest during Clowney's lengthy stay on the market.
According to Dianna Russini of ESPN.com — who first reported last night that Clowney was planning to sign with Tennessee — the Saints' offer came in about $2MM lower than the Titans' proposal (Twitter link). Dan Graziano of ESPN.com adds (via Twitter) that New Orleans really wanted to get a deal done and even talked to veterans already on the roster about reworking their contracts to create cap room. Graziano says Seattle continued to monitor the situation but ultimately felt that a $12MM minimum payout was too rich (Twitter link). And per Albert Breer of SI.com, Clowney wanted to sign with Baltimore, but the Ravens were perhaps more lukewarm on the idea than was reported (Twitter link).
As opposed to most of the other teams that were connected to Clowney, the Titans have been involved in the process all along. They extended an offer months ago and never stopped their pursuit. Given the presence of head coach Mike Vrabel — the Texans' LB coach and defensive coordinator during Clowney's first four years in Houston — and Tennessee's relative proximity to Clowney's South Carolina home, the Titans always felt like a logical fit.
Clowney, 27, is not without his detractors. The No. 1 overall pick of the 2014 draft battled injuries in the early part of his career, and he underwent core muscle surgery this offseason. For months, teams could not bring him into their facilities to evaluate him due to COVID-19 restrictions, and (fair or not) it seems that health concerns will always be a part of his resume.
There is also the issue of his lack of sack production to consider. Clowney has never posted double-digit sacks in a season, and he mustered just three with the Seahawks last season. On the other hand, Clowney supporters will point to his ability to disrupt a passing game even without gaudy sack totals, and he can be a menace against the run as well. He earned three consecutive Pro Bowl nods from 2016-18, and the Titans hope his familiarity with Vrabel's defense will help him return to that level of play.
It may take Clowney and fellow free agent acquisition Vic Beasley a week or two to get fully up to speed. But once they do, they will team with Harold Landry and Jeffery Simmons to form the foundation of an intriguing front seven, one that could certainly help the Titans get back to the postseason.
Clowney did not get the massive multi-year contract with a $20MM AAV that he was seeking when free agency opened, but he will have a good chance to improve his stock with the Titans. According to Mike Florio of Pro Football Talk, the Titans have agreed that they will not use the franchise tag on Clowney next offseason. That same provision was worked into his Seahawks deal after he was traded to Seattle last year and may have ultimately cost him several million dollars, but he is clearly willing to bet on his ability to land a long-term pact with significant guarantees. With the 2021 salary cap expected to decrease, though, even a career-best showing this year might not be enough to get him that type of deal next offseason.
Photo courtesy of USA Today Sports Images.