Drew Brees already has his post-playing career lined up. The longtime Saints quarterback has signed a broadcasting deal with NBC, sources told Andrew Marchand of the New York Post.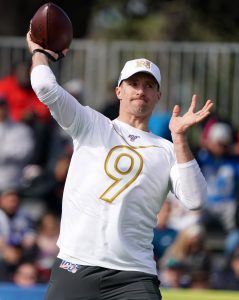 We heard just a few days ago that ESPN was chasing Brees, and apparently NBC had a more appealing offer. Brees will be "groomed as the potential replacement for Cris Collinsworth" on 'Sunday Night Football' broadcasts, sources told Marchand. Of course, this deal won't take effect until after Brees decides to hang up his cleats. He's back in New Orleans for at least one more season. Saints coach Sean Payton recently let slip that Brees was "coming back for his final season," although it's possible he misspoke.
It's been reported for a while now that the Saints view Taysom Hill as Brees' successor, and that they're anxious to increase his role on offense. All the moves that they've made this offseason indicate they're going all-in on one last Super Bowl run with Brees in 2020, like signing aging vets Malcolm Jenkins and Emmanuel Sanders.
It looks like the 'Sunday Night Football' broadcast is getting a total makeover, as Marchand has already reported that Mike Tirico is going to take over for Al Michaels as the play-by-play caller after the 2022 Super Bowl. Brees isn't going to take the reins on SNF immediately either. Brees "is expected to start as a game analyst on Notre Dame football and as a studio analyst for 'Football Night in America,'" before eventually taking over for Collinsworth, Marchand writes.
Marchand also notes that ESPN's offer was thought to be in the $6MM annually range, and that NBC's offer was "competitive with it" financially but that they "sold him on it being the best place to succeed." Obviously, Brees wants to avoid an experience like Jason Witten had at ESPN on 'Monday Night Football,' and it sounds like the chance to get eased in appealed to him.
Photo courtesy of USA Today Sports Images.