As expected, the Saints made the official step of designating Drew Brees to return to practice Wednesday. Although Brees practiced for the first time since suffering a punctured lung and 11 rib fractures Nov. 15, he still has some hurdles to negotiate before returning to action.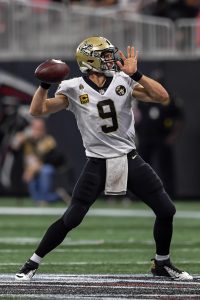 The Saints want to see the future Hall of Fame passer display a full range of motion before sending him back into action. His timetable has gone from being a good bet to start against the Chiefs on Sunday to being questionable "at best" for that pivotal interconference matchup.
"He's got a ways to go still, and he's someone we're not gonna just hurry back and just put him in the game," Sean Payton said, via ESPN.com's Mike Triplett. "I think the significance of the injuries are such that you've gotta make sure he can function and feel confident."
Brees fared well Wednesday, per Ian Rapoport of NFL.com, who notes the soon-to-be 42-year-old passer was not in much pain while practicing for the first time officially in a month (video link). The Saints have three weeks to activate Brees. While the Saints are 8-1 without Brees over the past two seasons, their loss to the Eagles allowed the Packers to move past them in the race for the NFC's bye.
Photo courtesy of USA Today Sports Images.