Beyond Amari Cooper, the Browns are set to rely on a host of young wide receivers. Despite being linked to re-signing Jarvis Landry, the team has been hesitant to add a veteran here just for the sake of adding experience.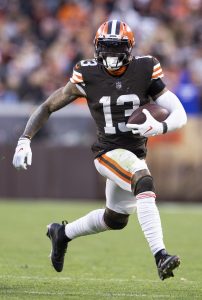 A healthy Odell Beckham Jr. would qualify as something more. Although it would be a strange development for the Browns to bring back Beckham after such a public divorce, the team has discussed this scenario, Armando Salguero of Outkick.com notes. The circumstances have obviously changed, given the team's bumpy Baker Mayfield-for-Deshaun Watson transition. Of course, Beckham's health has led to him remaining in free agency into June. The Browns know full well how much injuries have affected the former Giants superstar's career.
OBJ has torn the same ACL twice in 15 months, the first coming with the Browns, and is not expected to be ready until around the midseason point. Still, Browns players — including Myles Garrett — have made overtures to the talented wideout returning. Beckham, 29, said earlier this offseason he is open to it, despite lobbying to leave Cleveland — and then awkwardly doing so, wrapping a disappointing Browns tenure — last year. Other teams remain in the mix, most notably the Rams.
Sean McVay said in May he still wants Beckham back in his offense, though the Rams giving Allen Robinson a three-year deal worth $45MM and being in negotiations for a Cooper Kupp raise stand to complicate matters financially. Thought to be on his way back to Los Angeles earlier this offseason, Beckham and the Rams' contract talks did not move the needle for the high-profile receiver, Salguero adds.
Landry has attempted to recruit Beckham to New Orleans, but the Saints have reloaded at receiver. Landry, Michael Thomas and Chris Olave are positioned as the team's top three here, and although Thomas has become a bigger health risk than Beckham, this is a more crowded depth chart than the Browns appear to have. It would seem Beckham would be more needed in Cleveland, which is set to rely on third-year talent Donovan Peoples-Jones and third-round rookie David Bell alongside Cooper.
The Browns outflank the Rams and Saints in cap space, leading the league by a wide margin at $40MM-plus, but OBJ's injuries do not present his latest free agency as a true bidding war. Beckham already received his monster payday — coming via the five-year, $90MM deal the Giants authorized in 2018 — but the second ACL tear derailed his hopes at another high-end receiver contract. The NFC playoffs and Super Bowl LVI's first half displayed OBJ's talents, but the injury trouble that began in New York may lead to him going year-to-year on the contract front. With his age-30 season on tap, Beckham is nearly out of time to show he can still be a reliable contributor.