Emmanuel Sanders became the third-highest-paid wide receiver free agent this offseason, trailing younger cogs Amari Cooper and Robby Anderson. But before signing a two-year, $16MM Saints deal, the veteran received extensive interest on the market.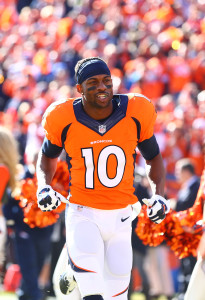 In addition to the 49ers wanting to retain him and some interest from the Cowboys and Jets, two 2019 playoff teams sought Sanders. The Bills and Packers were in the mix for the 33-year-old wideout, Sanders confirmed.
Both teams contacted him on the first day of the legal tampering period, as did the 49ers. While the Bills discussed a deal with Sanders, they reached an agreement to acquire Stefon Diggs less than an hour after the sides' phone call.
"I spoke with the Bills for a little bit and I told them, 'Let me think about the idea; give me a night,'" Sanders said during an appearance on The Rich Eisen Show (audio link). "And 30 minutes later the Stefon Diggs deal went through and I was like, 'OK.' So then I kind of waited. I was talking to Green Bay; I was talking to the Niners, just trying to figure out what type of deal, what type of money we're talking about. And then the Saints called. I was ecstatic about them, the opportunity to play with Drew Brees, and the numbers made sense."
While Buffalo unloaded a major asset to bolster its receiving corps with a younger player, Green Bay took the cheaper route in signing Devin Funchess. The Packers figure to still be in the market for receivers when the draft opens. Their Davante Adams sidekick contingent has not panned out, leaving the Packers with a clear need. The 49ers acquired the No. 13 overall pick from the Colts in the DeForest Buckner trade, and they also will likely be in the running for a first-round wide receiver.
Sanders said he signed with the Saints because of their consistent offense reminding him of his first season with the Broncos, in 2014, and because of Brees' two-year contract. It is not yet known if Brees will play in 2021, but Sanders appears to be rooting for that to happen.
Photo courtesy of USA Today Sports Images.