12:41am: The lottery-protected 2023 first-round pick that the Nuggets agreed to send to the Pelicans on draft night in order to land RJ Hampton will be rerouted to Oklahoma City as part of this deal, according to ESPN's Adrian Wojnarowski (via Twitter).
---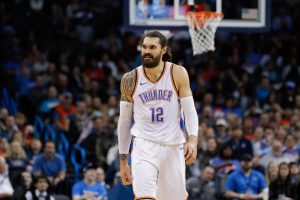 12:00am: Having already traded away guards Chris Paul and Dennis Schröder, the Thunder are now finalizing a trade that will send veteran center Steven Adams to the Pelicans, according to Shams Charania of The Athletic (Twitter link).
The deal is becoming a part of the Jrue Holiday blockbuster that New Orleans and the Bucks previously agreed upon, according to ESPN's Adrian Wojnarowski, who reports (via Twitter) that the Holiday trade will expand to include more teams and players. It still has "a lot of moving parts" and will take some work to finish, tweets Wojnarowski.
The Thunder will be receiving a first-round pick and second-round picks as part of the expanded swap, per Woj (Twitter link).
While it's tricky to evaluate the deal before we know all those moving parts, we can at least break down Adams' fit in New Orleans. He'll fill the hole in the frontcourt created by the free agent departures of Derrick Favors and Jahlil Okafor earlier this evening. The Pelicans were said to have interest in Aron Baynes, among other big men, but it looks like Adams will be the team's new man in the middle.
In 2019/20, Adams averaged 10.9 PPG, 9.3 RPG, and 2.3 APG in 63 games (26.7 MPG) as Oklahoma City's starting center. His contract is somewhat onerous, with a $27.5MM cap hit for 2020/21. However, it'll be an expiring deal and will come off the Pelicans' cap next summer.
With the Pelicans now taking on Adams' salary, it seems likely that at least one of the point guards they were set to receive in the Holiday trade – Eric Bledsoe and George Hill – will be rerouted elsewhere.
Photo courtesy of USA Today Sports Images.