The NBA has suspended Pelicans wing Didi Louzada for 25 games without pay for violating the league's anti-drug policy, reports Adrian Wojnarowski of ESPN.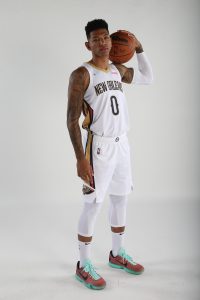 According to Wojnarowski, Louzada tested positive for Drostanolone and Testosterone. Both are listed in the NBA's Collective Bargaining Agreement in the section on banned steroids and performance-enhancing drugs.
The NBA has officially confirmed the news, announcing in a press release that Louzada's 25-game ban will begin on Friday. He'll be eligible to return to action on January 11 vs. Minnesota.
Louzada, a 22-year-old from Brazil, was the 35th overall pick in the 2019 draft. After spending his first two seasons in Australia, he signed with New Orleans in late April. The Pelicans turned down their team option on him this summer in order to sign him to a new four-year contract that includes two fully guaranteed seasons. He has logged just seven minutes in two games this season after appearing in three contests as an NBA rookie in the spring.
Louzada issued a statement to ESPN in an effort to explain his drug violation, as Wojnarowski relays.
"When I was in Brazil during the offseason, I consulted a nutritionist who recommended I take some vitamins and supplements," Louzada said. "Because she has a history of working with professional athletes, I would never have imagined that any of those substances would be banned or could be contaminated. Once I learned of the positive test, I immediately cooperated completely with the league and union to help all of us understand what exactly occurred.
"I would never knowingly take anything that violates NBA rules. I accept my responsibility in this situation. I deeply regret that this happened and I apologize to my team, my teammates, and Pelicans fans for this mistake."
Pelicans president of basketball operations David Griffin also put out a statement from the team:
"On behalf of the New Orleans Pelicans organization, we were disappointed to learn that Didi Louzada violated the NBA/NBPA Anti-Drug Program. After speaking with Didi, we are confident that he understands the full gravity of the situation and regrets the decisions that led to the suspension. We fully support Didi on and off the court as he learns and grows from this experience."
Louzada will lose $406,109 of his $1,786,878 salary for the 2021/22 season, tweets ESPN's Bobby Marks. That works out to 1/110th of his salary per game.
As Marks observes, the Pelicans will have the ability to move Louzada to the suspended list after the first five games of his ban, opening up a spot on the 15-man roster to add a free agent. Once Louzada is eligible to return, the club would have to trade or waive that newly-signed free agent (or someone else) to be in accordance with roster-limit rules.