The Nuggets will bring back reserve power forward JaMychal Green, an unrestricted free agent, on a two-year, $17MM deal, reports Shams Charania of The Athletic (via Twitter). The agreement includes a player option for the 2022/23 season, Charania adds.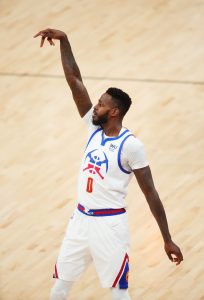 After going undrafted out of Alabama in 2012, the 6'8″ Green logged time with the Spurs, Grizzlies, and Clippers before linking up with Denver. Green, now 31, initially joined the Nuggets as a free agent in 2020, inking a two-year, $15MM deal with a player option for the 2021/22 season, which he then declined this summer.
An athletic big man with long-range shooting ability, Green proved a helpful contributor in Denver's frontcourt rotation. Across 58 contests with Denver, Green averaged 8.1 PPG and 4.8 RPG in 19.3 MPG, with a stellar shooting line of .463/.399/.807. He averaged 5.4 PPG and 5.2 RPG during 19 MPG in the 2021 postseason.
The Pelicans were apparently also interested in adding Green this summer, writes Mike Singer of the Denver Post.
The Nuggets appear determined to retain some key role players this summer, as it was also announced today that Denver is set to bring back free agent shooting guard Will Barton, also on a two-year deal.
Singer tweets that the Nuggets will not be using their $9.5MM mid-level exception to sign Green, and thus will be able to pursue a significant new addition elsewhere.
Photo courtesy of USA Today Sports.