The Heat and Bulls will each forfeit their next available second-round pick as a result of the NBA's investigation into the free agent acquisitions of Kyle Lowry and Lonzo Ball, the league announced today in a press release.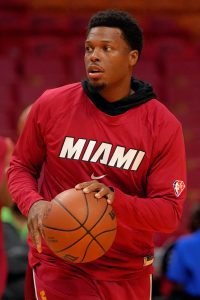 According to the NBA's announcement, both clubs violated league rules governing the timing of free agency discussions, having jumped the gun on negotiations with Lowry and Ball.
It's no secret that most teams are in touch with players' agents before free agency officially begins, but the league determined that the Heat's deal for Lowry and the Bulls' acquisition of Ball were particularly egregious, since they were sign-and-trade agreements (which require the approval of two teams and at least one player) that were reported within the opening minutes of free agency.
The league told teams in a memo that the Bulls and Heat "fully cooperated with the investigations," which was taken into account when determining the penalties, says ESPN's Adrian Wojnarowski (Twitter link). Both clubs issued statements acknowledging the penalties and saying they're moving on with their seasons — the Heat said in their statement that they disagreed with the league's ruling.
A lost second-round pick is the same penalty the Bucks faced a year ago for jumping the gun in free agency with Bogdan Bogdanovic. In that case, Bogdanovic ended up in Atlanta rather than Milwaukee — the Heat and Bulls landed their respective free agent targets, so it's a little surprising the two teams this time around didn't face harsher punishments. However, we don't know exactly what the NBA's investigations turned up.
Both the Heat and Bulls have traded away many of their upcoming second-rounders, so it's possible they won't actually have to forfeit a pick for a few years. According to RealGM, Miami has traded all its second-round selections through 2027, though the 2024 pick is top-50 protected and could remain with the Heat. Chicago has traded all its second-rounders through 2025.
However, the Heat are on track to receive the less favorable of Philadelphia's and Denver's second-rounders in 2022, assuming they make the playoffs. The Bulls, meanwhile, will receive Denver's 2023 second-rounder if it's not in the top 46. The NBA's announcement today didn't explicitly say that Miami and Chicago will be required to surrender their own next available second-rounders, so those '22 and '23 picks from other teams could be the ones forfeited.
It appears the Raptors and Pelicans – who worked with Miami and Chicago, respectively, in the Lowry and Ball sign-and-trades – will face no punishment. While that's not a major surprise, it's still a relief for those two teams — especially for the Pelicans, who acquired Garrett Temple via sign-and-trade in the Ball deal.