Throughout the season, Hoops Rumors takes a closer look at players who will be free agents or could become free agents this off-season. We examine if their stock is rising or falling due to performance and other factors. This week, we take a look at players from the Southwest Division: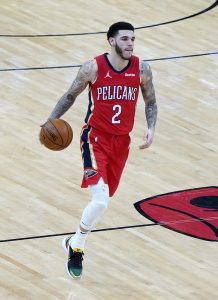 Lonzo Ball, Pelicans, 23, PG (Up) – Signed to a four-year, $33.5MM deal in 2017
Ball's status has been a hot topic around the league. He's a prime trade candidate as New Orleans ponders whether it wants to commit long-term to the second overall pick of the 2017 draft. The Pelicans would have to extend $14.36MM qualifying offer to make him a restricted free agent if they don't deal him. On the plus side, Ball's recent play has pumped up his value. Prior to his quiet 12-point performance on Friday, he was averaging 17.3 PPG, 5.8 RPG and 4.3 APG in February while making 51.2% of his 3-point tries. Moreover, he's kept his turnovers down. The Bulls have been linked to Ball for weeks and perhaps his recent play will convince them he's the answer to their point guard conundrum.
Trey Lyles, Spurs, 25, PF (Down) – Signed to a two-year, $11MM deal in 2019
Lyles has been a disappointment since the Jazz made him a lottery pick in 2015. This season has been particularly trying for the Kentucky product. After starting regularly last season, Lyles has only seen spot duty in his walk year. With LaMarcus Aldridge out, Lyles scored a season-high 15 points in a blowout loss to Golden State on Tuesday. That was his first double-digit output this season, as he's only averaging 12.0 MPG. Lyles doesn't stand out in any one area and he'll be looking at modest offers this summer.
Tim Hardaway Jr, Mavericks, 28, SG (Up) – Signed to a four-year, $70.95MM deal in 2017
The Mavericks have been a disappointment but Hardaway has fulfilled his role, averaging 17.2 PPG in 31.1 MPG. He's turned into a consistent 40% shooter from long range and that fact will serve him well as he enters unrestricted free agency. It will be interesting to see how much teams value Hardaway's overall game and if he can get similar money to what the Knicks offered him as a restricted free agent in 2017. But it's a shooter's league and Hardaway is a proven starting wing. At 28, he'll likely receive some quality multi-year offers.
DeMarcus Cousins, Rockets, 30, C (Down) – Signed to a one-year, $2.33MM deal in 2020
The former perennial All-Star signed a veteran's minimum deal with Houston to try to rebuild his value. He'll get ample playing time in the next few weeks with Christian Wood sidelined by an ankle sprain. However, knee and Achilles injuries have robbed Cousins of his explosion. He can still occasionally post some big numbers (28 points, 17 rebounds, 5 assists vs. Dallas last month) but he can't deliver those big stat lines on a consistent basis. He can do better than veteran minimum deals in the future, barring another major injury, but he's not the force he was early in his career with the Kings.