Throughout the season, Hoops Rumors takes a closer look at players who will be free agents or could become free agents this off-season. We examine if their stock is rising or falling due to performance and other factors. This week, we take a look at players from the Southwest Division: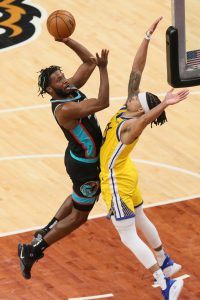 Justise Winslow, Grizzlies, 24, SF/PF (Down) – Signed to a three-year, $39MM extension in 2019
The Grizzlies waited a long time to see what they had in Winslow after acquiring him from the Heat last February. He was injured when he was traded and never returned to action last season. During the summer restart in Orlando, Winslow suffered a left hip displacement, which also caused him to miss the first 25 games this season. He's appeared in 16 games off the bench since returning to action and hasn't provided much punch, averaging 7.1 PPG and 4.8 RPG with a woeful PER of 5.28. He's currently sidelined by a sore thigh. The team holds a $13MM option on his contract for next season and Winslow, whose career seemed to be taking off two seasons ago as a point forward, will be hunting for another fresh start this summer.
Gorgui Dieng, Spurs, 31, PF/C (Up) – Signed to a one-year, $1MM deal in 2021
The Grizzlies couldn't find a trade for Dieng because his contract was too big but after he cleared waivers, he reportedly had at least eight teams interested in signing him. The Spurs, who had just reached a buyout with LaMarcus Aldridge, won him over with a recruiting pitch. Dieng's popularity as a free agent last week bodes well for him this summer, though he's currently sidelined by a sore shoulder. Minnesota overpaid him for him in 2017 (four-year, $62.8MM). Dieng's next contract will probably be closer to veteran's minimum numbers but he's still valued as a quality second-unit big.
Boban Marjanovic, Mavericks, 32, C (Down) – Signed to a two-year, $7MM deal in 2019
Boban still has enough star power to land a Goldfish cracker commercial. In another era, Marjanovic might have been one of the game's biggest draws. Alas, there's little use for a slow-footed 7'4'' center the way the game is played today. Marjanovic can still dominate in spurts against certain opponents but those opportunities are few and far between. The gentle giant is always fun to watch when he gets a chance to play but he's only seen spot duty in 22 games. Hopefully, Dallas or another team will give him at least a minimum deal this summer so he can make a few more commercials with his pal Tobias Harris.
Avery Bradley, Rockets, 30, PG, (Down) – Signed to a two-year, $11.6MM deal in 2020
Bradley started 44 games for the Lakers last season, then opted out of the restart and watched the team win the championship from afar. He declined a $5MM option to stay with the Lakers and signed a two-year deal with Miami to join its guard rotation. That didn't go well, as Bradley has been injured most of the season. His salary was thrown into the Victor Oladipo trade and he now finds himself on one of the league's worst teams. It's hard to imagine that Houston will exercise its $5.9MM option on Bradley's contract for next season, so he'll be shopping his services again this summer.