Suns star Devin Booker has been diagnosed with a Grade 1 right hamstring strain and could miss two to three weeks, according to Brian Windhorst of ESPN.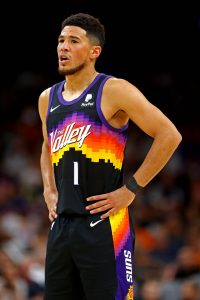 Reports on Wednesday indicated that Booker was unlikely to play in Games 3 and 4 of Phoenix's series against New Orleans — now it sounds like the injury could sideline him beyond that.
After scoring 31 points in the first half of the Suns' Game 2 loss on Tuesday, Booker left the game in the third quarter due to the injury and didn't return. Booker underwent an MRI on Wednesday and the Suns initially deemed it to be a mild hamstring strain, but were still evaluating the results.
As Windhorst explains, a typical recovery period for a player with a Grade 1 hamstring strain is between 14-21 days. However, sources tell ESPN that Pelicans head coach Willie Green is warning his players to expect Booker back sooner than that.
Booker missed seven games earlier this season due to a hamstring strain that affected his left leg. He also played through a hamstring injury during last year's NBA Finals and has dealt with a few other hamstring issues over the years, though none have been too significant — this year's seven-game absence was his longest stretch on the sidelines.
The top-seeded Suns, who went 8-6 this season without Booker, will still be favored over the Pelicans even without their leading scorer, but they don't have a huge margin for error as they head to New Orleans with the series tied at one game apiece.
In 68 regular season games this season (34.5 MPG), Booker averaged 26.8 PPG, 5.0 RPG, 4.8 APG and 1.1 SPG on .466/.383/.868 shooting. He was outstanding during the team's run to the Finals last season and carried that strong play into this postseason, averaging 28 PPG, 3.0 RPG and 4.5 APG on .526/.579/.833 shooting in the first two games of the series (32.5 MPG). Game 3 tips off at 8:30pm CT on Friday night.